Upcoming Events
Lest We Forget
This beautiful display currently stands in our school hall to mark Remembrance Day. It shows a military uniform, once worn by a soldier, and a beautiful red dress made of poppies as a sign of remembrance.
The uniform has been lent to school to display by the husband of Mrs T Stevenson. Mrs Stevenson has also handmade the dress of poppies for St. Martin's to display as a mark of remembrance. She is a very kind lady who does a lot of work to help other people, and has also made a similar dress for The Royal British Legion. She has also crocheted over 870 poppies, and is aiming to complete 1,000 this year!
Armistice Day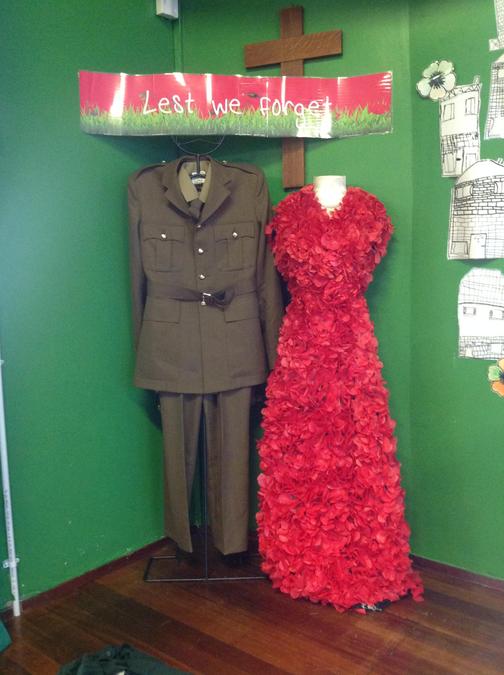 Armistice Day
11 November, is Armistice Day. It is also known as Remembrance Day. It marks the day World War One ended, at 11am on the 11th day of the 11th month, back in 1918. 'Armistice' means to stop fighting. Remembrance Sunday is usually held as the Sunday nearest to 11th November.
Today, people remember those who were lost in war by holding a two-minute silence and by wearing a red poppy. This is not just World War I, but includes: World War II the Falklands War, the Gulf War and conflicts in Afghanistan and Iraq.
The red poppies that grew on the battlefields of World War I the following spring inspired the poem "In Flanders Fields" by John McCrae. Their bright red petals are also thought to represent the blood spilt by the brave soldiers. The Royal British Legion adopted them as a symbol of remembrance and hope of a peaceful future.
Two-minutes silence was first held on 11th November 1919, when King George V aske the public to observe a silence at 11am, exactly one year after the end of World War so the thoughts of everyone should be concentrated on remembering those who fought and died in the war. All of our children at St. Martin's will observe the two-minute silence at 11am on 11th November.